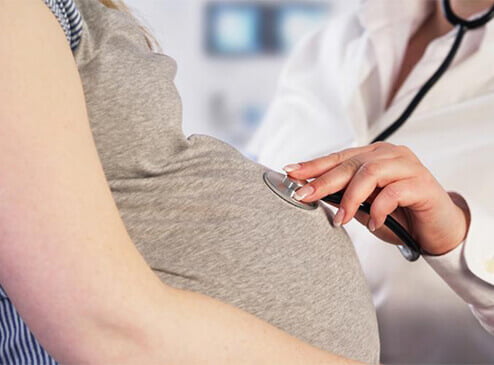 Pregnancy
Your pregnancy will be monitored by your attending doctor.
At our maternity unit, you will be offered :
An emergency obstetric consultation by the doctor or midwife
Ultrasound scans
Ultrasound
During the first three months of pregnancy, ultrasound and morphology scans will be performed by a team of qualified radiologists to monitor the good course of pregnancy.
Please note that for the smooth running of the ultrasound examination, it is strongly recommended to :
Avoid the use of moisturizing cream or shower gel on your abdomen in the 5 days preceding the examination

Come on an empty stomach

Ask for the doctor's permission if you want to film the examination
Need an appointment for a first trimester ultrasound or a morphology ultrasound ? Contact us and our coordinator will be in touch with you shortly.
Prenatal diagnosis is organized around a team made up of a prenatal diagnosis adviser, ultrasound doctors and (possibly) a psychologist.
Screening or diagnostic ultrasounds are performed by a sonographer.
All sonographers have a "1st trimester ultrasound" certification and are experts in prenatal diagnosis.
The measurement of serum markers of the 1st or 2nd trimester, the results of which are subject to personalized monitoring.

Diagnostic tests : Amniocentesis for fetal karyotyping

Assessment of foetal DNA in maternal blood for patients at risk for Down Syndrome or wishing to carry out an assessment in the absence of any previous screening test.

Trophoblast biopsies

Specialized consultations (genetic, surgical, etc.)

Additional radiology exams
Healthy food is of key importance for pregnant women. Indeed, a balanced diet will provide your body with all the elements necessary for its proper functioning and the healthy development of your baby. It is important to pay attention to your weight and avoid excessive weight gain. Note that the weight increase varies averagely between 9 and 12 kg (to ensure a safe and healthy pregnancy and birth). A nutritionist is available to advise and support you, if necessary.
In general, it would be better to :
Not skip meals

Eat at least 3 meals a day and start the day with a good breakfast

Not "eat for two"

Vary your diet

Stay hydrated throughout the day (drink at least 1.5l of water/ day)

Limit the consumption of juices and soft drinks

Eliminate all alcoholic beverages and tobacco.
Submit all your questions ! Our consultants will provide you with the information you need !
Equipment
Maternity suitcase
We highly recommend that you remember to pack your suitcase in the 7th month of pregnancy. To help you prepare your suitcase and that of your newborn baby, we have found it useful to draw up the following indicative list :
Bodysuits

Pajamas

One or two wool sweaters (even in summer)

Socks or slippers

A cap (even in summer)

A sleeping bag

A pillowcase

A towel

A pack of diapers

The first cotton pack

Toilet soap

Baby bottles
A water spray

A nursing bra (if you are breastfeeding)

Breast shells (if you are breastfeeding)

Your personal belongings

Sanitary napkins

Toilet soap
Labor : D-Day
The early signs of labor are :
Regular and painful contractions (hardening of the abdomen for a few seconds, causing severe pain)

Leaking amniotic fluid (water breaking)

Bleeding
In this case, you must head to the maternity unit promptly. Upon arrival, you will be taken care of by a midwife on call, who proceeds to :
Carry out an examination: She will measure your blood pressure and temperature, palpate your abdomen and perform a vaginal exam to check how dilated your cervix is.

Monitor the baby's heartbeat (Measuring the fetal heart rate (FHR) and monitoring uterine contractions)
By the end of this examination, the midwife tells if you are actually in labor and contacts your attending physician.
The midwives of La Rose Clinic are there to assist you during this special time.
Need a midwife's advice ? Our consultants will provide you with the information you need !
Administrative procedures
To give birth at La Rose Clinic, you need to carry out the necessary administrative procedures at the admission office.
What are the necessary documents ?
An official identity document with your photo

An admission letter (with the name and address of your attending physician)

A support arrangement made with the insurance company.

Your medical file (letters, x-rays, reports and lab tests)

A consent form for surgery must be filled up, signed and returned upon arrival at the clinic. This consent form will be given to you by the medical secretary and will be kept in your stay file.
Natural childbirth
Natural childbirth is a way of giving birth without medical intervention, i.e., by letting the body go through labor spontaneously, while considering the advice of the midwife and the recommendations of your doctor.
Certain steps are taken immediately upon arrival at the labor room: hemodynamic and temperature monitoring, setting up an infusion and monitoring the baby's heartbeat to make sure everything is fine.
Childbirth is an adventure to be planned ahead. To help you have a joyful experience, we have dedicated birth preparation courses.
Some women continue to give birth without taking epidurals. However, in case of severe pain, an epidural can be used.
Epidural
An epidural is intended to suppress or relieve the pain of childbirth. Its main role is to block the transmission of painful sensations in the nerves coming from the uterus, by injecting a local anesthetic product near the spinal cord. This method ensures the good stability of vital functions, which is beneficial for both, mother and child.
If it is necessary to perform a cesarean section, the anesthesia may be supplemented by this procedure, not eliminating the use of general anesthesia.
Depending on your health condition or the result of additional tests, you may not be entitled to receive epidural analgesia. The final decision on whether or not to perform the procedure is to be made by the intensive care anesthetist, together with the patient.
Cesarean section (C-section)
Cesarean section is a surgical procedure that can be scheduled beforehand or decided on urgently at the time of childbirth. Today, it is estimated that about two in five women have a C-section.
Even when the mother has intended to have a natural childbirth, the cesarean section can be performed during labor in certain cases (for instance, when the baby is unwell, or when the cervical opening does not progress, etc.).
Under anesthesia, the obstetrician makes a 9-10 cm horizontal incision through the mother's lower abdomen. S/he then pulls the muscle layers apart to reach the uterus and extract the baby.
The length of your stay in the clinic depends on the delivery method (natural childbirth or cesarean section) and progress. It varies from 2 to 3 days.
After birth
After birth, your child is laid directly on your chest to enable you to discover and touch their skin. This privileged moment, better known under the name of "skin-to-skin contact" or "kangaroo care" has several benefits, in particular: reassuring the newly born baby and helping them sleep better and develop their immune system, facilitating breastfeeding and strengthening the mother-child bond. The first bath shall be done the next day so that the baby can keep all those reassuring feelings and smells. During the first two hours of life in the delivery room, your baby will be kept warm in an incubator. Then, you will both be admitted to your room to rest and to introduce your baby to your family members.
During the first few days, your baby will sleep often and will feed several times a day (about 6 times in 24 hours). They will pass meconium and urine continuously.
Remember to take short naps during the day at the same time as your baby. It will allow you to better recover.
On the second or third day, you will start to feel that your breast is a bit sore. On the following days, your baby cries less as the flow of milk comforts them, and you start lactating. Let them breastfeed without restriction. Feeding your baby several times will relieve your strained breasts and prevent them from becoming too sore.
A hot shower or a hot towel enhances the milk flow. If your breasts still remain too sore, try to express milk (emptying the breasts). Your baby's bowel movements are as numerous as the previous couple of days. Besides, your baby's curve of weight may relatively decline, but it will then flatten (not exceeding 10% of the birth weight) or start to rise. On that day, many moms start to feel the effect of falling hormone levels, called the "baby blues."
A few days after your return home, your baby will feed 6 to 8 times per 24 hours, or every 2-3 hours, even at night. They have 4-6 wet diapers and at least 3 bowel movements per 24 h.
How to take care of the baby ?
Needed supplies upon your return home :
Diapers

Saline solution

Cotton

Hypoallergenic liquid soap

Sterile dressings

Eosin for umbilical cord care (discharge prescription)

Diaper rash cream
Submit all your questions ! Our consultants will provide you with the information you need !
Higiene and daily care :
A towel and clothes

A diaper

Bath soap

Face and cord care products
Then, prepare the bathroom and make sure to run the water before you start to undress your baby :
The room temperature should be around 23°C

The water temperature should be 37° (the use of a bath thermometer is recommended).
After removing your baby's diaper, you have to clean their buttocks, then undress and immerse them in the water, by placing their neck on your forearm, with the left hand supporting the armpit and the right hand supporting the seat.
Put baby shampoo on their head

Gently rub the scalp then the neck, armpits and buttocks, going from top to bottom

Rinse them off
Take your baby out of the bath and wrap them in the towel.
Once on the changing table, dry the baby's body well, while dabbing and focusing on skin folds.
Before starting umbilical cord care, take the time to diaper and dress your child.
Umbilical care :
Wash your hands or use a hydroalcoholic solution

Clean the umbilical cord base daily after the bath, using a saline-moistened dressing.
The diaper should be folded below the umbilical cord stump until it falls off. Now, you can find special newborn diapers in the market. The umbilical cord stump dries up and falls off after 8 to 15 days. Even after it falls off, you need to go on the treatment till it completely heals.
Do not hesitate to see a pediatrician if the umbilicus is red, swollen, smelly, or oozing (with pus).
Looking for Pediatric Nurse advice ? Submit your questions and our consultants will provide you with the information you need !
Face care products :
Eyes: Clean your child's eyes with the saline solution and then wipe each eye with a serum-moistened dressing from the inner corner to the outer corner of the eye. Eye drops may be prescribed by your doctor.
Ears: When you are drying your baby's skin after the bath, clean their ears with a towel, or with a "special infant" cotton swab with a large tip.
Nose: During your stay in the maternity ward, the nursing assistants taught you how to clean your child's nose with saline solution. It is important for you and your child to know how to perform this procedure in case of nasal congestion because your child cannot yet breathe through their mouth. When you get home, this treatment is only necessary in case of nasal congestion.
Sleep tips :
The room:
The ambient room temperature should be between 22 and 24°C.
Avoid putting the crib next to the heater.
Air out your baby's room on a daily basis no matter the season.
It is strongly recommended to avoid smoking in the house and especially in your baby's room.
The crib:
The mattress must be firm and adapted to the crib dimensions.
It is advisable to avoid pillows, blankets and duvets (at least up to 2 years).
It is strongly recommended to favor the use of sleeping bags or nests.
Sleeping positions:
Place your baby on their back, with their head slightly turned to the side and their nose clear to facilitate breathing. Remember to alternately turn their head to avoid the flat head syndrome.
Avoid falling asleep with them in your bed.
It is not recommended to leave cuddly toys in your child's crib.
The baby food :
You will be given advice on the choice of the type of food during the birth preparation courses.
Breastfeeding :
Breastfeeding is particularly suitable for your child.
For a first baby, you can get prepared by massaging your breasts daily with an unscented cream.
Breastfeeding should be thought through and decided before birth. Our healthcare teams are at your disposal to advise and support you.
Ideally, the baby should be put to the breast in the delivery room within two hours of birth.
During the first few days, the feeding rhythm will be irregular. Note that the more often you breastfeed your child, the faster and easier the milk flow will be.
You need to be available to breastfeed your baby and adapt to their rhythm.
Bottle feeding :
Some mothers choose to bottle-feed their child, which is totally acceptable. Every mother should figure out which option is best and most suitable for her.
Upon return home, you will need :
Four classic shape and easy-to-clean glass bottles of 240 ml.

Four 6-12 month pacifiers. It is advisable that you get silicone pacifiers because they are sturdy.

1 cleaning brush

1 powdered-milk tin (you can ask for advice from the maternity staff or the pediatrician)

Bottled mineral water
Baby bottle sterilization :
It is recommended that you sterilize bottles, rings and nipples before first use.
similar services
La Rose Clinic offers a selection of similar services to meet your needs.